Gentle Pediatric Dentist – Glen Ellyn, IL
Get to Know Dr. Muna Hakim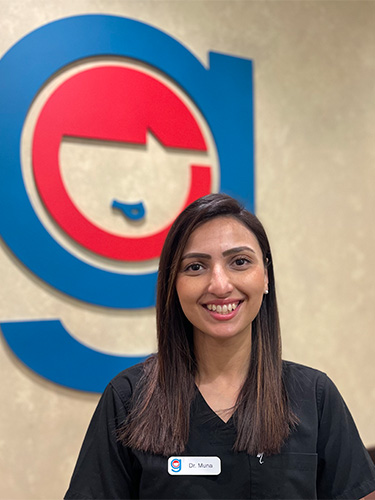 Dr. Muna Hakim grew up in Canada in the beautiful City of Calgary. However, she moved around a lot growing up, and she considers Rochester Hills, Michigan to be her hometown. She genuinely enjoys bonding with patients and strives to make each dental visit positive by providing gentle and compassionate care. In fact, making dentistry fun for kids is what she loves most about her job! If you'd like to learn more about her educational background and what life outside the office looks like, keep reading.
Where Did You Study Dentistry?
Dr. Hakim's studies began in India, which is where she earned her BDS. From there, she earned her Doctor of Dental Surgery from the University of Iowa and completed her Pediatric Dental Residency at the University of Illinois College of Dentistry. Passionate about continuing education, she is a member of the Chicago Dental Society, the American Dental Association, the Illinois Society of Pediatric Dentists, and the American Academy of Pediatric Dentistry as well. Plus, she has more than 10 years of experience in the dental field!
Outside of the Dental Office, What Do You Like to Do?
Dr. Hakim's family is spread out all over the globe, and she and her spouse are cat parents to Chip. Her interests outside of dentistry include everything from playing video games and watching anime to lifting weights. In fact, she can deadlift 225 lbs.!