Preventive Dentistry for Children – Glen Ellyn, IL
More Than Your Average Dental Visit
When your child visits Glen Ellyn Pediatric Dentistry for routine care, they will truly get an experience unlike any other. Kids are not only met with a warm and friendly greeting by our team and dentists, but they will take the time to get to know them and keep them engaged during every step of their appointment. It's positive experiences like these that make all the difference in their long-term care, and we look forward to providing it, whether they need a basic checkup, fluoride therapy, mouthguards, or other forms of preventive dentistry from our Glen Ellyn, IL children's dentist!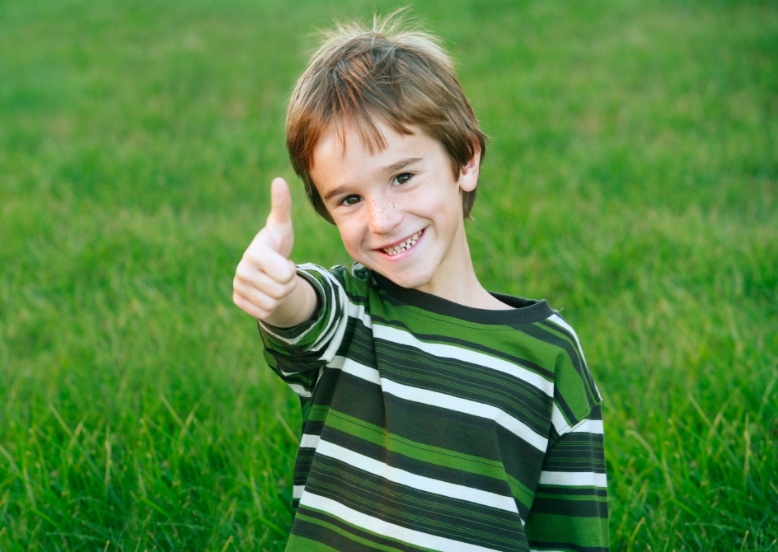 Why Choose Glen Ellyn Pediatric Dentistry
for Preventive Dentistry?
Highly Experienced Team That's Served Generations of Children
Comfort and a Welcoming Environment are Our Top Priorities
Team Led by Board-Certified Pediatric Dentists
Dental Checkups & Teeth Cleanings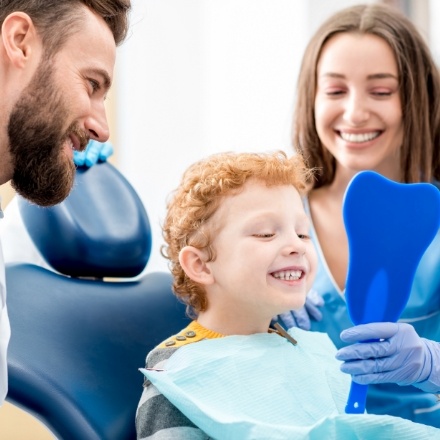 During your child's first checkup, our team will dedicate some time to getting to know them and explaining in detail what we intend to do. Following a brief and gentle examination of their mouth, we'll be able to assess your child's risk for developing issues in the future. From there, we'll remove any plaque deposits that we see and discuss at-home oral hygiene you'll want to keep in mind for your child.
Dental Sealants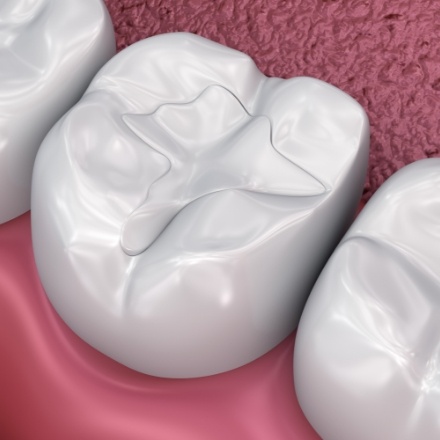 In order to reduce the risk of cavities, especially in the back teeth that are particularly difficult to clean at a young age, we can apply dental sealants. These involve a thin layer of composite resin that seals the little grooves on the chewing surfaces of teeth. The newer the teeth are, the more susceptible they can be to decay. Not only are sealants easy to apply and affordable, but they last for several years.
Silver Diamine Fluoride Treatment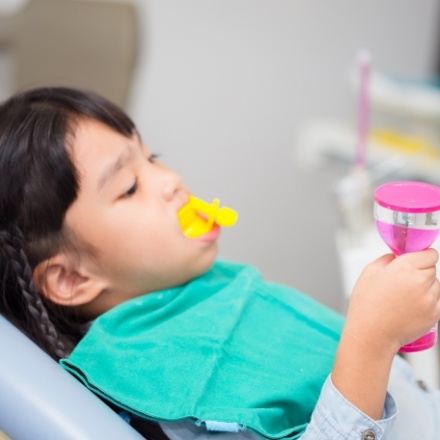 Silver Diamine Fluoride (or SDF) is a noninvasive method in which a clear liquid is applied to a tooth to slow the progression of cavity formation. It does this by lowering the number of cavity-causing bacteria and reinforcing the enamel (the outer layer of the tooth). It may be recommended if a child is very young and not ready for dental treatment or if there is a very small cavity that doesn't warrant restoring just yet.
Teething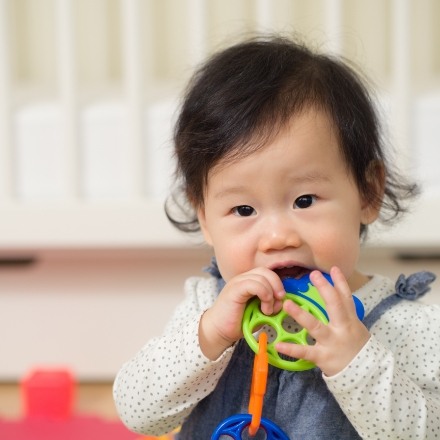 As your child's teeth begin to erupt, an early stage of their development known as "teething," they'll need attention and guidance as their smile begins to take shape. Our dentists are more than prepared to offer tips and advice to make this process as smooth as possible. This could include rubbing their gums with a moist gauze pad to soothe any discomfort as well as offering them a clean teething toy made from solid rubber.
Non-Nutritive Habits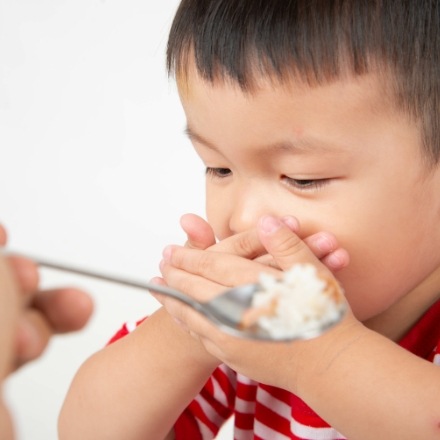 While it may seem like thumb-sucking and digit-sucking are relatively harmless habits for your child, the reality is that these habits can be detrimental to your child's long-term oral well-being. For example, malocclusion (crooked bite) can develop as a result of thumb-sucking past the age of four. The dentists of Glen Ellyn Pediatric Dentistry are trained to help your child end these habits at an early age, ensuring they don't end up with dental problems later in life.
Athletic Mouthguards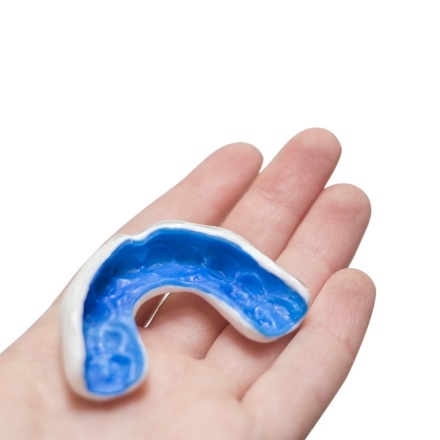 Is your child quite active? Do they enjoy sports where there's a reasonable chance they could get hurt? Turns out, providing them protection for their teeth is just as important as giving them a helmet and other padding. In fact, one of the most common causes of dental injuries is from playing sports without the right gear. Store-bought appliances can offer short-term solutions, but custom-made mouthguards offer the best protection, longevity, and comfort for your child's developing smile.